THE VILLA

Villa MONTBEL is located in Pyla-sur-mer, a stone's throw from the La Co (o) rniche and Ha (a) itza hotels. Raised on a side of the Dune, it is ideally located to enjoy a beautiful view of the basin and to walk to the beach.

The villa can accommodate from 2 to 12 people. It has a large heated swimming pool and a large garden of 1200m2.
With its 6 themed bedrooms all equipped with bathrooms, its large cathedral living room, its spectacular Mallorca stove and its kitchen with central island, this house is ideal for a stay with family or friends.
A beach between sand and teak which is accessible from the kitchen will allow you to enjoy garden furniture for pleasant barbecues in summer. Unlimited WiFi internet access is provided. We hope you enjoy your visit to the Villa MONTBEL website, do not hesitate to contact us with any questions about your stay in the Arcachon basin.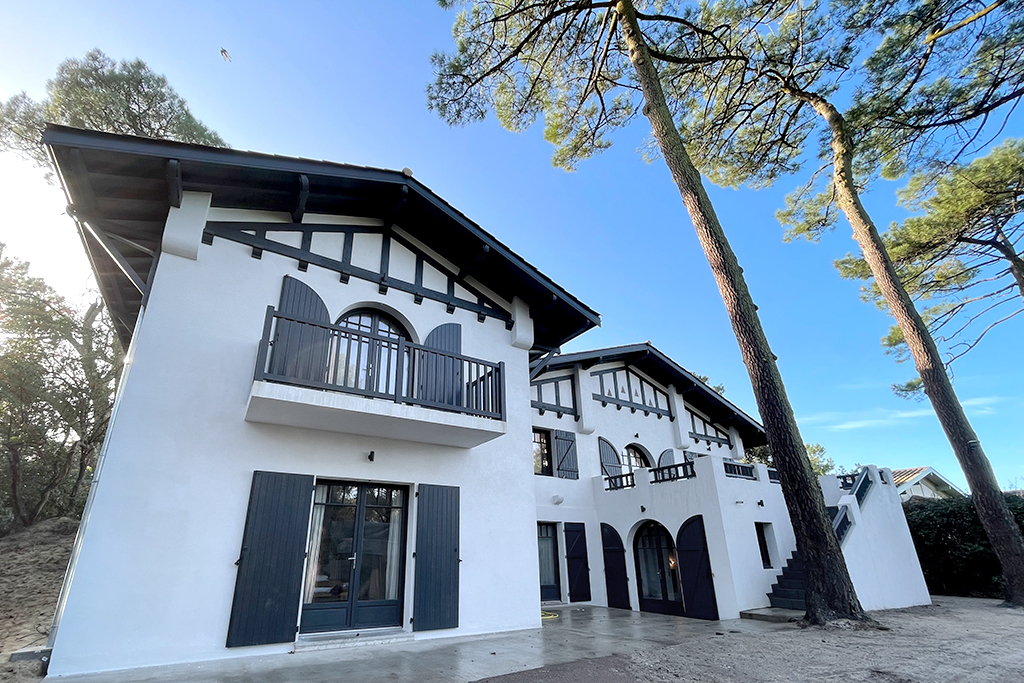 PYLA SUR MER
The creator of the Pyla-sur-Mer resort is Daniel Meller. It is located in the extension of the Moulleau district. It was he who launched the seaside resort in 1915 and decided to give it the name of Pyla Sur Mer. Joined by Louis Gaume, they set out to create a resort on the Biarritz model. This city under the pines is built around luxurious hotels and luxury villas. The architecture is very neat and based on a Basque-Landes style largely inspired by certain local constructions and the Basque Country.
Other remarkable styles can be found with the Geneste villa (listed) just next to our villa (below) from the Salier Lajus Courtois Sadirac architectural studio.
There are many activities around the Arcachon basin and near the villa: sailing, boating, tennis, surfing in Biscarrosse, paragliding from the dune, beaches, walks, gastronomic tasting, oyster huts…